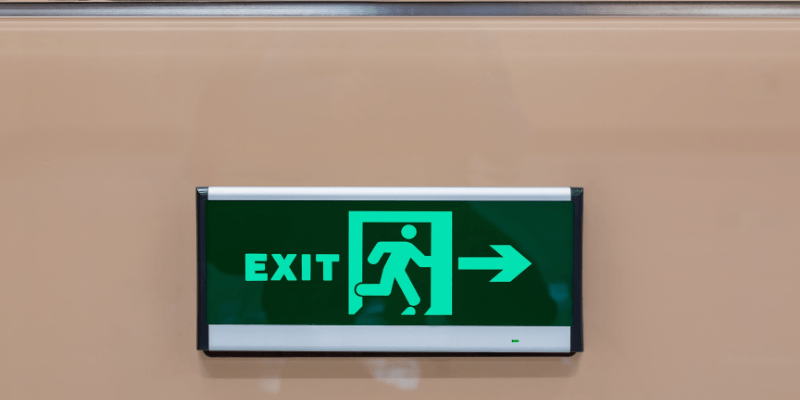 The importance of Emergency Lighting in public spaces
Emergency lighting is an essential component of any commercial or industrial environment.
You may recognise emergency lighting signs from your trips to your local cinema or shopping centre.
Electrical safety forms a very important part of building compliance, to ensure safety for the public.
Emergency lighting provides lighting during unforeseen situations that cause the mains power supply to be cut.
Sudden darkness in case of emergencies, such as a fire, can lead to possible physical and mental danger.
Therefore, having emergency lighting as a preventative measure is a necessity in commercial buildings.
The lighting can provide safe evacuation during worst-case scenarios.
When there is a mains power failure, the rechargeable back-up batteries power the emergency lights in the building.
Emergency lighting needs to be tested regularly to ensure the lighting will work efficiently in case of an emergency.
A qualified electrician must ensure the lighting tubes and back-up battery is working properly.
Testing and inspection of emergency lighting should be documented onsite to keep a record of testing dates and outcomes.
Emergency lighting can be tested both monthly and annually.
A monthly test involves switching the mains power supply off, and a check to see if all emergency lights are visibly working.
Alternatively, an annual test involves leaving the mains power supply off for three hours to see if the emergency lights last the duration.
If they do not, back-up batteries will likely have to be replaced.
Carrying out testing and inspection out of hours ensures safety in case of emergencies when operating for the public.
There are a number of benefits to regular testing and inspection of your emergency lighting.
You will be reassured with peace of mind that the workplace is safe for yourself, your staff, and the public.
Emergency lighting also shows to other professionals that you and your company is compliant to electrical safety regulations and standards.
Regular testing can prolong the life of your equipment saving you revenue and liability long-term.
Here at KWE, we have a team of qualified electricians with over 30 years of experience who can fit and test your emergency lighting.
If this is something that you are interested in, call us on 01670 856049 or email us on info@kwe.uk.com.